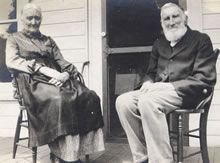 Anna Sophia Clark & James H. Snow, Founding Ancestors
Farm House
Gathering Oats with Neighbor
Snofarm Dairy
"… We are proud to offer high quality dairy products made from cows that enjoy their lives on our farm."
Snofarm Dairy produces wholesome, environmentally friendly milk from our thirty heritage varieties of cow. Soon we will also produce Snofarm Cheese, matching our premium quality milk with the best of farmstead cheese making methods.
Our farm is nestled in the Finger Lakes region of upstate New York, near the thriving college town of Ithaca. The Finger Lakes were carved in the last Ice Age by a series of glaciers, which cut long inland fjords into the foothills of the Allegany Mountains. The region is renowned for its Finger Lakes wine and for its cheese.
Snofarm is owned and operated by Calvin, Jean, and Jonathan Snow. The Snow family first began farming in Tompkins County in 1816, producing dairy and poultry products from the 1860s onward. We have owned the current farm location since 1919. We have made our mark by introducing sustainable crop and livestock methods to our legacy-rich land. Our cows are not fed rBGH (recombinant bovine growth hormone). They are given antibiotics only when they are very sick. They produce milk, a great, wholesome, nutritious food you can give to your kids.
Start looking for Snofarm Cheese at the Ithaca Farmer's Market starting in 2008. Meanwhile, we're glad you came to visit. Please check out our farm's history, meet the cows, and find out why they're so happy to live at Snofarm